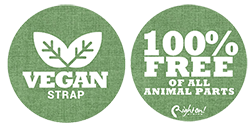 Ukulele and Guitar Strap
Guitar Strap 1,57" (4 cm) wide, guitar straps easy to carry, for guitarist and learners. Adjustable design, very versatile.

In addition to being a practical tool for musicians, guitar and ukulele straps are a great way to show off your personal style, and this surfboard-shaped strap is perfect for surfers or anyone who wants to add a surfer vibe to their outfit. There are different colors and materials available, but what really makes this strap unique are the surfboard-shaped ends that transport us straight to the beaches of California or any other surfer country.

But don't worry, it's not just a pretty accessory! This strap is tough and durable, so you can be sure your guitar or ukulele will be safe and stable during your concerts and rehearsals. In short, if you want to add a special touch to your lifestyle, music, or aesthetic, this surfboard-shaped guitar or ukulele strap is the perfect accessory for any musician. Rock on!

Width: 1,57 '' - 4 cm

Color: Brown

Instrument: Guitar , Acoustic Guitar, Bass Guitar, Ukulele-Mandolin, Mandolin, Banjo, Bass guitar, Electric guitar

Material: Textile, No leather

Minimum Size: 33,46 '' - 85 cm

Adjustable to: 60,23 '' - 153 cm